Sneha Insulation Pvt. Ltd has an expertise in providing Hot and Cold Insulation Solutions. It is due to our technologically advanced practices that we have been able to provide insulation work for a comprehensive range of industries requiring a temperature range from sub zero to 500 degree Centigrade. We can also undertake insulation work where high compressive Strength and an excellent sound transmission barrier is required, for example, Fan Casings, Machinery Enclosures and Plant Rooms.
We have an extensive range of services in following areas:

High Density Glasswool Work – Hot and Cold Applications

General Purpose Glasswool Work – Hot and Cold Applications

Accoustics Work – Noise Reduction and Sound Transmission Applications.
Our team of dedicated technocrats ensure to provide you the best in Insulation Work. We wish to work with our clients from the Product Engineering Stage which leads to framing insulation solutions on following parameters:
ˇ Thickness (and surface temperature, if applicable).
ˇ Type of equipment or installation and operating temperature range.
ˇ Fixing method preferred and if vapour barrier required.
ˇ Location of insulation, indoors or outdoors, and finish required.
We endeavor to provide you the most optimum insulation work on the basis of following parameters:

Thermal Conductivity- Decided on the basis of Chart Given.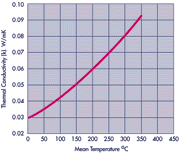 *Mean Temperature = T1 + T2 / 2
Where T1 = temperature of hot side of insulation (ēC)
Where T2 = temperature of cool side of insulation (ēC)

Fire Hazard Rating : We ensure insulation work meet below mentioned specifications.
1. Ignitability Index – 0
2. Spread of Flame Index – 0
3. Heat Evolved Index - 0
4. Smoke Developed Index - 0 -1

Moisture Absorption : less than 0.1% by volume (Universally accepted)

Maximum and Minimum Service Temperature: Keeping in view the service temperature
which may range from sub zero to 500 degree centigrade, the optimum material is selected.

Sound Absorption: Sneha Insulation Solutions' comprehensive range of acoustic
building insulation services ensure reverberation control, sound transmission and absorption in building interiors, as well as in external walls, ceilings and plumbing. Our acoustic services also ensure excellent thermal control properties.

Alkalinity: Products selected are slightly alkaline (PH 9) (neutral is pH7), and thus
will not corrode steel. Protection against contamination from external sources
is also recommended to avoid the possibility of corrosion.

Given the data of actual service temperature and the required surface temperature, the appropriate insulation thickness is calculated by our experts.